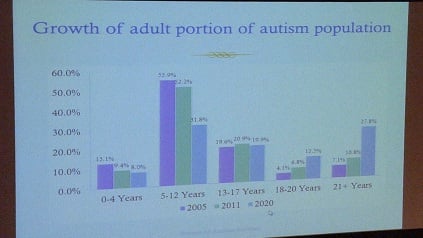 This is a growing problem, and in a few years will be a huge challenge for a multitude of families and for social services. Pittsburgh Post-Gazette also has a series chronicling this issue and our prison system:
The number of people with Autism Spectrum Disorder is growing, especially as the children diagnosed in the 1990s reach adulthood.
Parents, health care professionals, and administration met at Penn State Behrend on Saturday for the fifth annual Autism In Our Community conference to discuss new treatment options and trends in the disorder.
An estimated 35,000 people in Pennsylvania are currently diagnosed with the disorder, about double the number of cases from ten years ago.
The first autism diagnosis was made in 1994. Since then, awareness about the disorder has grown, particularly for children. But many of the diagnosed are reaching adulthood, and most communities are not prepared with the services that autistic adults will need.
"I have a son with autism. When he was diagnosed, there wasn't information about it. So to see the focus on children is extraordinary," said Nina Wall, a speaker from the Bureau of Autism Services. "But people forget that children grow up."
"So what we're now seeing is a huge number of individuals moving to the adult service arena. And that is the challenge for our system, which is already very strained," Wall said.
Adding to the numbers are the people who are diagnosed with autism as adults, and may previously have received incorrect diagnoses.